Sadly, almost nothing.
I'm not talking about the values that conservatives espouse — such as the importance of family and personal responsibility, the importance of the rule of law and being fiscally responsible, the valuing of the U.S. Constitution and expectations of personal liberty, etc. — many of which I myself agree with. No, the real problem is how conservatives allow themselves to be hoodwinked into believing utterly false claims about causality and therefore into promoting policies and praxis resulting in
outcomes that completely undermine and contradict the values they espouse.
Take the example of abortion. Reducing the frequency of abortions seems like a good thing to almost everyone, regardless of where they are in the ideological or political spectrum. The problem is that the conservative approach — to overturn Roe v. Wade and, ultimately, to ban abortions altogether — simply isn't effective. In fact, decades of data demonstrate that communities where Planned Parenthood has a long-term presence have evidenced a steady reduction in total abortions over time…even as populations in those areas grow…so that per capita abortions steeply decline. So this "liberal/progressive" approach to reducing abortions actually works, even though it flies in the face of conservative claims about "how liberals just want to kill more babies," or that Planned Parenthood is an evil emblem of this baby-killing frenzy. And we know that, historically, women will still seek abortions whether they are legal or not. Lastly, SCOTUS overturning Roe v. Wade in the way that it did essentially threatens several longstanding protections of personal liberties (gay marriage, mixed race marriage, parental decision-making, right to contraception, etc.). So despite the rhetorical "virtue signaling" of the abortion bans we see being legislated in conservative states,
real-world evidence and outcomes tend to contradict what conservatives claim the root of the problem to be, and their solutions undermine the very personal liberty conservatives claim to support!
And this is true across the board — in the flavor of crony shareholder capitalism that conservative policies promote, in the level of government corruption and law-breaking that politicians elected by conservatives carry out, in the failure of conservative economic policies, in their persistant undermining of democratic institutions, etc. The way conservatives go about reifying their values nearly always either falls short or makes things much worse — often smacking of hypocrisy and invoking high levels of cognitive dissonance within the conservative tribe. Thus conservatives seem to demonstrate a really terrible track record in areas where they are constantly accusing or attacking liberals and progressives. And this hypocritical spiral has extended all the way up to conservative Supreme Court Justices, who are shamelessly "activist" in their revision of 200 years of stare decisis (yet only regarding conservative hot-button issues, and little else).
It's more than a little astonishing.
Why does this happen with such frequency? Why are conservatives so often mistaken? Well…because the folks who work very hard (and spend lots of money) hoodwinking conservatives are benefitting from the false narratives about causality and preferred policy approaches.
Let's look at just one potent example that spells this out really clearly. Consider that firearms manufacturers — via intense lobbying, funding of pro-gun candidates, generation of endless Second Amendment propaganda and fear-mongering, and long-term intimate relationships with "gun rights" organizations — have been very successful in persuading conservatives that civilians "need" to own lots of weapons, including military weapons. According to gun makers, owning a military weapon is a Constitutional right that is constantly under threat from gun-fearing libtards and the nanny state! But wait…who is this really benefiting from these endless and well-funded persuasion efforts? Well the firearms manufacturers of course! All that propaganda and lobbying directly increases firearm manufacturer profits in a world where starting wars that enlist mass armies has become much less popular, and the sale of military weapons to such armies has consequently become much less profitable. Gun manufacturers just needed to find a new market…and by hoodwinking conservatives, they did just that.
And this is how almost all conservative groupthink is generated…and how the conservative voting base is "energized:"
it's mostly just simple hoodwinking for profit.
When we follow the money behind any conservative propaganda, it always leads to folks who want to enrich themselves directly — or empower themselves politically so that they can further enrich themselves.

REFERENCES/FURTHER READING
Some additional examples of conservative hypocrisy illustrated below from this website:
www.realmajority.us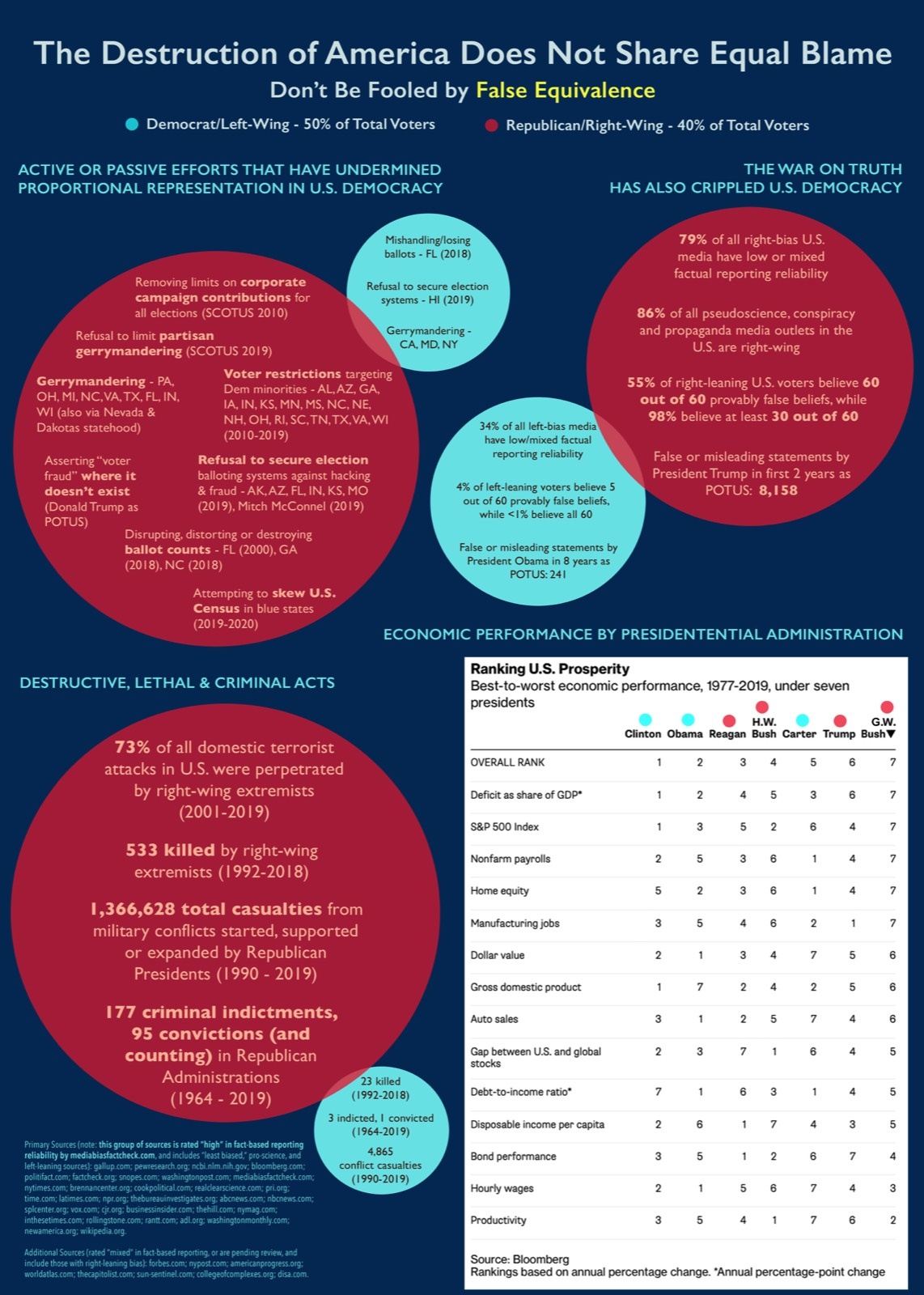 On the agenda and tactics of neoliberalism:
https://level-7.org/Challenges/Neoliberalism/
On the nature of conservative "culture wars" and conning Christians into supporting right-wing agendas: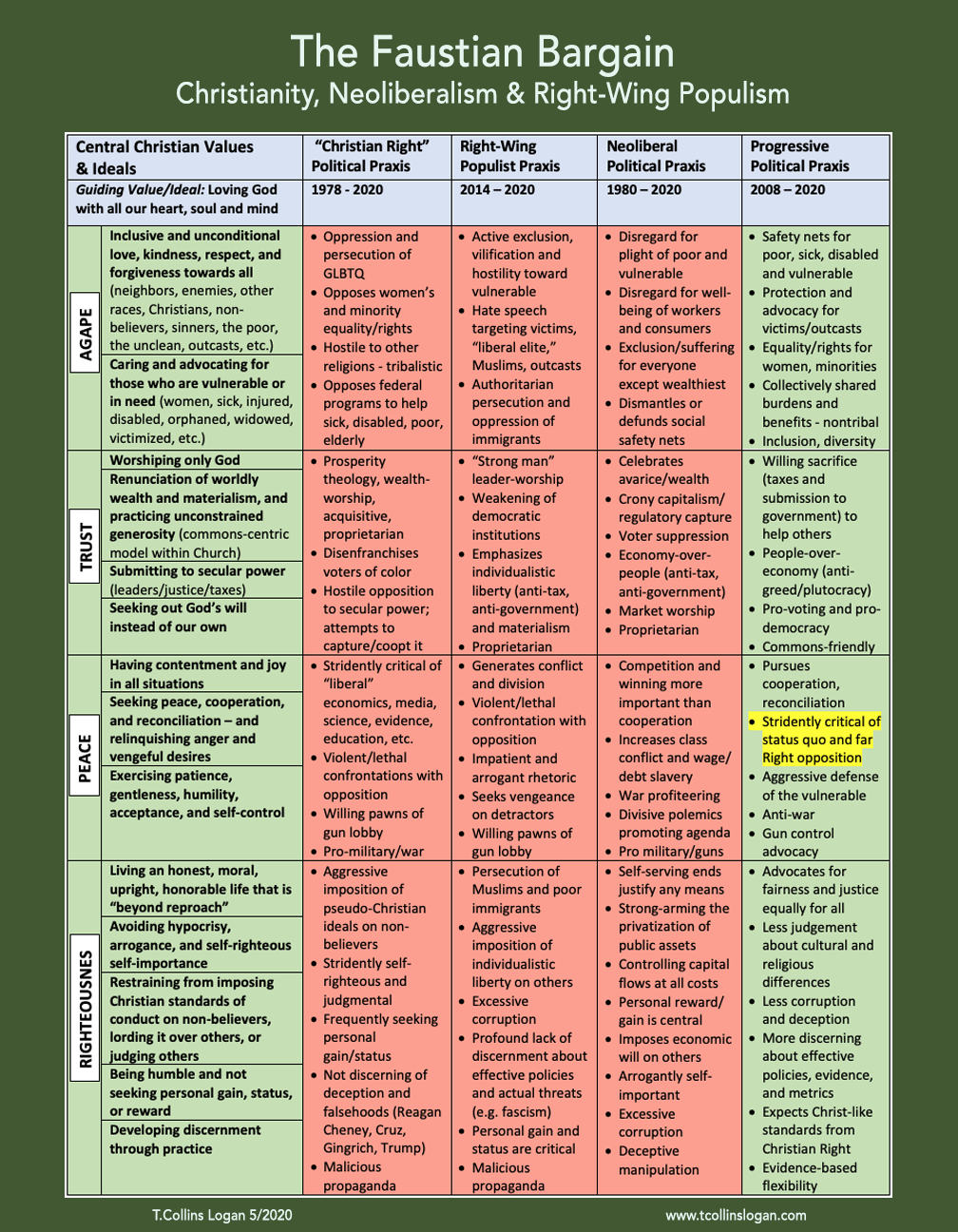 Trackbacks
Trackback specific URI for this entry
This link is not meant to be clicked. It contains the trackback URI for this entry. You can use this URI to send ping- & trackbacks from your own blog to this entry. To copy the link, right click and select "Copy Shortcut" in Internet Explorer or "Copy Link Location" in Mozilla.
No Trackbacks
The author does not allow comments to this entry